Haig Housing's Sustainability programme
Plans for better insulated, more energy efficient homes through retrofit
Government funding from Social Housing Decarbonisation Fund (SHDF)
Haig and E.ON working in partnership
Smart Thermostat roll out by Switchee
We recently held a webinar to give Haig tenants more information about the programme. Watch the webinar here and on our Frequently Asked Questions page
What is Retrofit?
It's a word that's being used more and more often, especially when people are talking about how to reduce energy usage and the carbon footprint of our homes.
Retrofit is simply the process of making changes to existing buildings so that energy consumption and emissions are reduced. These changes should also provide the benefit of a more comfortable and healthier home with lower energy required.
However, to achieve all of these, works need to be carried out properly with a bespoke plan and design and installed by competent, skilled tradespeople who work to high standards of technical competence and customer service, with good trading practices.
More information in this guide to retrofitting your home from Trustmark or visit https://www.trustmark.org.uk/homeowners/whole-house-retrofit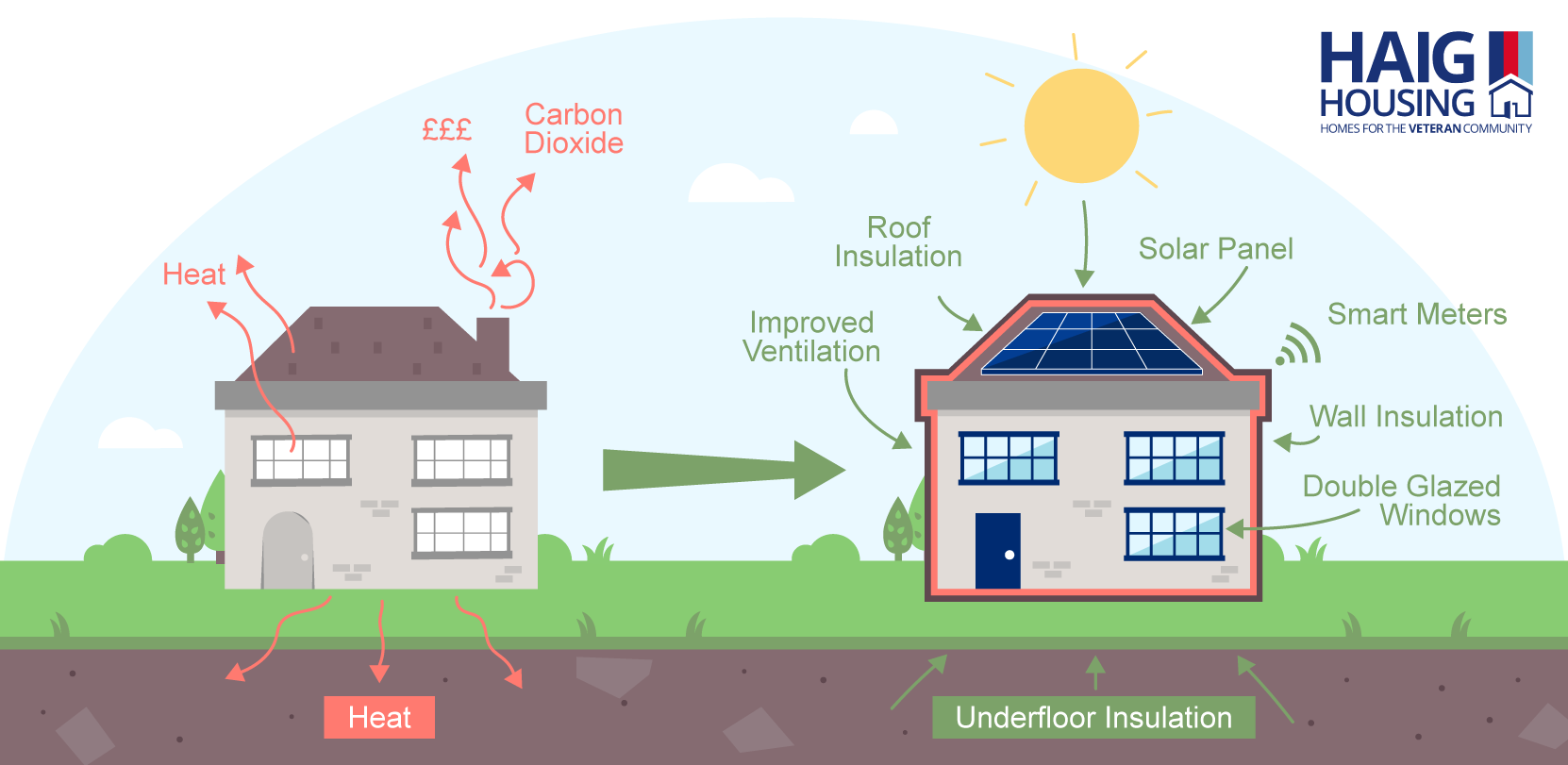 Rolling out the Retrofit Assessments
We will be rolling out the Retrofit Assessments using E.ONs contractors to these sites across England.
This is wave 2.1 of the SHDF (Social Housing Decarbonisation Fund).We are currently working on the bid for funding under wave 3 to extend the programme to more of our homes.
Devolved nations do not come under the SHDF funding but the team is working hard to identify appropriate funding from the relevant authorities.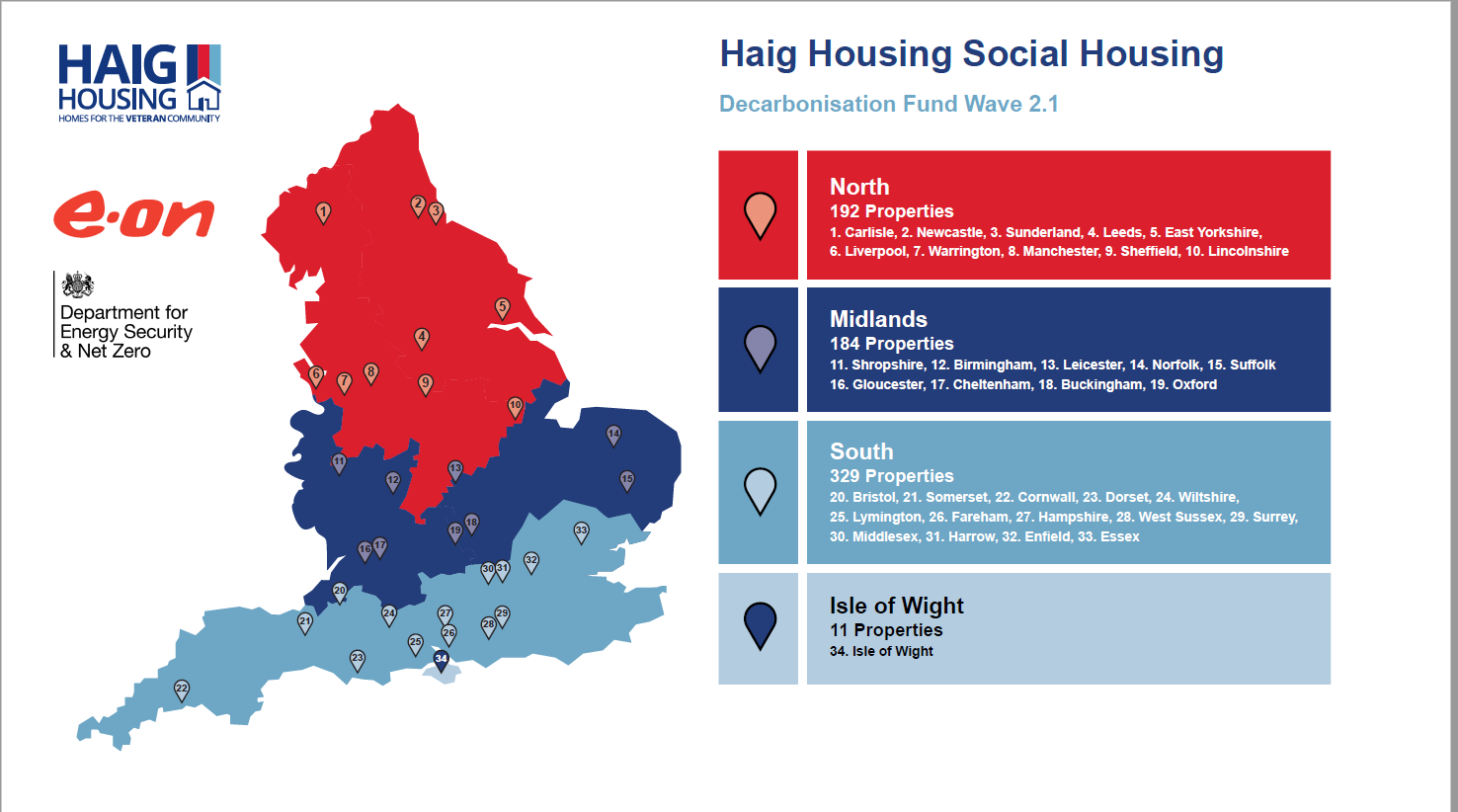 What are the next steps?
If your home is identified for support:
you will be contacted to book in a retrofit assessment and a survey of your home. A session will be allocated to give you time to speak with the assessor to inform them of how you currently live in your home, how comfortable it currently is, and any concerns you have
we will then use the assessment to design and recommend the energy measures that will best make your home as energy efficient as possible, as well as ensure that your home is future-proofed
once everyone agrees to the measures and are happy to move forward, we will book in the installation and inform you of what will happen before, during and after the installation
Contact from E.ON

The Social Housing Decarbonisation Fund team at E.ON will call you. One of E.ON's friendly experts will contact you via phone and book in your home survey.

Home Survey

An E.ON assessor will come to your home and conduct an internal and external property survey.

Installation

Your home will receive the required works from a Trustmark registered contractor to improve its energy efficiency rating.

Aftercare

A member of Haig housing's team will visit your home to ensure that they are happy with the work. We will continue to provide you with ongoing support.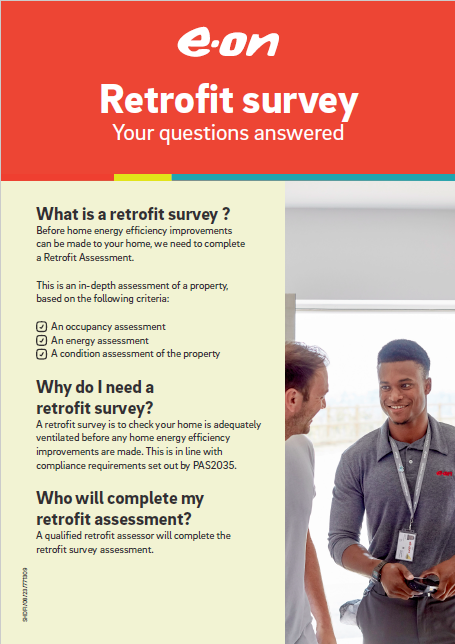 What types of measures will be used?
External wall insulation (EWI)
This benefits properties built before the 1920s with solid walls. It involves fixing a thin layer of insulation material to the outside wall, then covering it with a reinforcement and a modern thin-coat render. Reducing your energy bills by keeping the heat in and the cold out.
Here's a handy timelapse video explaining EWI
Loft insulation (LI)
Lofts can be insulated if access is easy and your loft joist are regular. We use rolls of mineral wool insulation. The first layer is laid between the joists – the horizontal beams that make up the floor of the loft – then another layer is laid at right angles to cover the joists and make the insulation up to the required depth.
Cavity wall insulation (CWI)
Cavity walls can be insulated by injecting insulation material into the cavity from the outside. The cavity is located between the inner and outer brickwork of the property. Cavity wall insulation (CWI) stores the heat within the inner walls, bouncing it back into the room and holding it for longer. It also works in reverse by keeping your house cooler in the summer months.
Underfloor insulation (UFI)
Under floor insulation (not to be confused with underfloor heating) can be installed where the floorboards are suspended and there is a gap which can be insulated. Newer homes generally have ground floors made of solid concrete while older homes are likely to have suspended timber floors. Making sure your floor is suitably insulated will keep your property warm and help reduce your energy costs.
Solar PV (SPV)
Solar energy can be captured by thermal or photovoltaic (PV) panels to create heat or electricity. Solar panels work even on cloudy days and are becoming increasingly popular in the UK – providing one of the best sources of sustainable energy for both businesses and for homes.
Have a question? Contact us
If you have a question about Sustainability and our plans, please email sustainability@haighousing.org.uk