Haig Housing's Edinburgh estate extended a warm welcome to Cabinet Secretary, Mr Keith Brown MSP, Veterans Minister.
Mr Brown, who served with the Royal Marines and has been a Member of the Scottish Parliament since 2007, was keen to visit Haig Housing's beneficiaries. He was very interested in the history of the Edinburgh estate as he grew up close to it.
Accompanied by HHT Trustee, Luise Locke, Housing and Development Director, Bill Lindsay and Scotland Regional Manager, Simon Giles, Mr Brown visited three homes and met with residents to learn more about their background and experience of living in a Haig Housing home. All residents spoke highly of the service offered by the Trust and the quality of their homes.
Mr Brown was also briefed on the Haig Housing footprint in Scotland and the service offered to beneficiaries. He said:
"The Scottish Government remains wholehearted in its commitment to supporting our Veterans and their families.
"We have an active and close-knit charity sector in Scotland and I am continually impressed by the quality of support they provide and how they have adapted to the new challenges of the pandemic.
"I am grateful to Haig Housing for everything that they are doing to support our Veteran community in Scotland"
Mr Brown also planted a tree in the new Queen's Platinum Jubilee Garden on the Edinburgh estate. Her Majesty The Queen is Patron of Haig Housing Trust and her jubilee will be marked by all estates across the UK. Mr Brown is seen here with Major Willie Nicol, Scotland Committee Member, Luise Locke, Bill Lindsay, Mary Forgie, Scotland Committee Member and Simon Giles.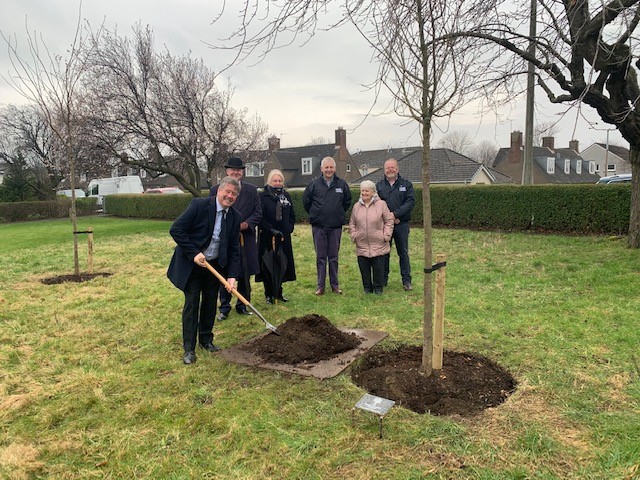 Cabinet Secretary Mr Keith Brown MSP, Veterans Minister plants a tree to comemorate HM The Queen's Platinum Jubilee