The Winter 2021 edition of Haig News is available now. Please click the link below for latest news, beneficiaries' stories and estate details, along with the usual gently challenging puzzles, competitions, useful advice and lots more.
We'll be celebrating The Queen's Diamond Jubilee in 2022 and we are looking for your ideas of how we can mark the occasion.
The front cover of this edition features the 25ft high statue 'Embracing Peace' which was erected at Portsmouth Historic Naval Dockyard to coincide with the 75th anniversary of D-Day in June 2019.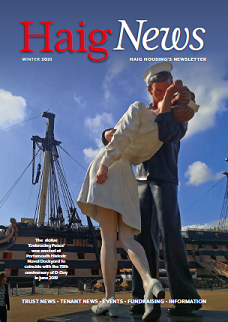 Other News & Events
Contact Us
Want to speak with us, make a payment or report a repair. Contact us in a way that suits you best, find out how below.
Email
General Enquiries
Housing
Fundraising
- Patrick Lyster-Todd
PR & Media
- Patrick Lyster-Todd
Development Team
- William Lindsay
My Haig Portal
This is under construction and when it's live you will be able to check your rent statement, make a payment or report a repair online
Phone
Main switchboard – 020 8685 5777
Opening Hours: Mon – Fri 9am – 5pm
Call us between 9am and 5pm Monday to Friday. Outside our normal working hours, or during special circumstances, this number will be answered by an out of hours service.
For maintenance emergencies, please state that you are a Haig Housing Trust tenant and the nature of your emergency.
For gas emergencies or if you smell gas, please call 0800 111 999
PR & Media
For out-of-hours media enquiries, please call Patrick Lyster-Todd
07973 435754
Contact Form
We will respond to all your enquiries, sent via our contact us form, within 5 working days.
Contact
Head Office
Haig Housing Trust
Alban Dobson House
Green Lane, Morden
Surrey, SM4 5NS